course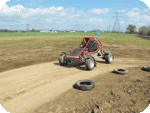 Our challenging one and a half kilometre track is purpose designed for maximum fun and safety.
It features various jumps, corners, bends, chicanes and hairpins that will really test your driving skills.
Drivers will soon learn how to throw the buggy sideways through the challenging corners.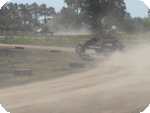 Adding to the buzz your opponents will be in your peripheral vision through most of the race.
All of the circuit can be viewed from the pits and spectator area, so you can still view the action whilst waiting for your races.