specifications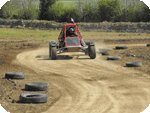 The Rage R20 was specifically designed for the Corporate Hospitality market, where safety, reliability and strong performance are imperative.
The driver will also benefit from always being safely held in place by the three point harness and protected by the steel roll cage.
At the heart of the R20 is a robust Honda V-Twin petrol engine, giving strong performance from its 620cc capacity.
The R20 is built to a very high specification, incorporating our in house designed CVT belt drive system and a RAGE/QUAIFE reduction gearbox, which houses an ATB (automatic torque biasing) differential. The brake system uses stainless steel cross drilled wavy discs with Ferodo racing pads and fluid, and steel braided brake hose through to Brembo calipers.
The vehicle has a simple stop and go system, which is operated using the right foot on either the accelerator or brake. Many years of experience of using these vehicles has proven this system to be the safest and most natural pedal set up.
Engine
Honda 620cc V-Twin
Transmission
Variable Speed Torque Converter
Gearbox
Quaife Reduction Gearbox with ATB Differential and Reverse
Chassis
1.5" Tubular Space Frame Tested to beyond FIA standards
Floor Pan
Aluminium Chequer Plate 5 Bar
Wheels
Aluminium Rim, 12x6 Front, 12x8 Rear Douglas Red Label
Tyres
Front - Off Road 23"x8"x12"
Rear - Off Road 23"x10"x12"
Shocks Absorbers
Intrax Non Adjustable Gas Charged
Suspension
Front - Double Wishbone with 13.5" travel
Rear - Double Wishbone with 14.5" travel
Steering
Aluminium Rack & Pinion, 1.5 Turns Lock to Lock
Brakes
Stainless Steel Discs with Brembo Calipers, Hydraulic Hand Brake
Seat
Diolen Race Seat, 4 or 5 Point for Harness - FIA Approved
Harness
Nascar 4 Point
Safety
Bumpers & Nerf Bars, Side Protection Nets and an Instructor Operated Handbrake
Dimensions
Length - 2500mm
Width - 1700mm
Height - 1400mm